Iowa County Average Farmland Prices
Iowa Farmland Market Prices
The Iowa Farmland Market is HOT right now! With current commodity prices, interest rates, and a low supply of land, farmland values are being driven higher and higher! In fact, we're seeing this first-hand with our own auctions. This past month has produced some outstanding results for our sellers. On March 23rd, we held an online land auction in Union County, IA, and the property sold for $1,435 more per acre than the county's average. Similarly, on March 2nd, another one of our auctions in Bremer County, IA sold for $5,315.84 more per acre than the county's average price!
Realtor's Land Institute's Land Value Survey
The Realtor's Land Institute's indicated in their most recent report that the statewide average in the past six months has increased by 14.1%. Additionally, pastureland is up by 12.3% and timberland by 11.2%, both of which followed the same trends as cropland. Overall, over the past 12 months, prices have increased by 32.9% for land, and these numbers are continuing to climb. It was also found that the buyer pool consisted of 65% farmers, 19% local investors, and 16% non-local investors.
To see the specifics of this report, click HERE!
Jason Smith
Auctioneer, Land Broker, Founder
Jason holds Auctioneer or Land Broker licenses in Iowa, Missouri, Minnesota, Nebraska, and South Dakota. His DreamDirt team is composed of auctioneers, land brokers, and realtors. They specialize in farmland sales primarily serving the heirs to family farms all across the Midwest. We offer risk-free selling experiences and work hard to maximize the value of our client's assets using highly effective auction methods, technology, and powerful advertising.
Email: Jason@dreamdirt.com | Phone: (515) 537-6633
Current Farmland Price Averages Per County 
As a farmland auction and land brokerage company, we also track recent farmland sales in Iowa and collect data weekly. We believe it is important for farmland sellers to understand the value of the farmland and provide free market evaluation consultations. Below you will see a chart of each county in Iowa, average price per acre, and average price per CSR2 rating. This data has been collected over the past 12 months and is a reflection of 80% tillable or more farmland sales in Iowa. Learn more about each county and price details by clicking on the county name in the table. 
| | | |
| --- | --- | --- |
| County | $/acre Average | $/CSR2 Average |
| Buchanan | $11,687.78 | $150.79 |
| Buena Vista | $12,768.05 | $148.51 |
| Butler | $11,033.75 | $143.73 |
| Calhoun | $11,997,22 | $141.08 |
| Carroll | $13,962.50 | $177.62 |
| Cass | $13,060 | $157.71 |
| Cedar | $9,516.67 | $148.05 |
| Cerro Gordo | $12,938.47 | $164.40 |
| Cherokee | $12,292.86 | $138.20 |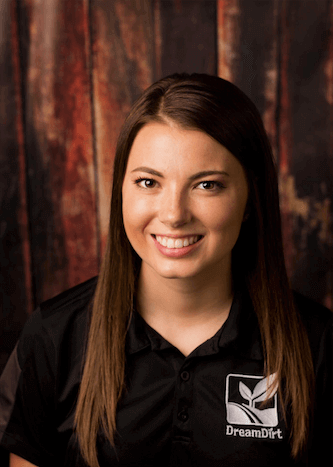 Rachel Tiffany
Farmland Auctioneer | Land Broker
Rachel is a licensed real estate salesperson specializing in the sale of farm, land, and rural residential real estate. She is a graduate of Iowa State University with a major in Animal Science and a minor in Agricultural Business. Rachel has a strong interest in valuations and appraisal of rural properties and studied Rural Property Appraisal at Iowa State. She also works for DreamDirt as the Online Auction Coordinator building and facilitating their online land and equipment auctions.
Email: rachel@dreamdirt.com | Phone: (515) 954-8063
Iowa Land Prices at A Glance
Our Iowa Farmland Price Heatmaps have been a huge help for people that want to visiuliaze and research farmland prices in Iowa.  Here you can research your farm's proximity or the statewide market and see individual sale results, average prices per acre, average price per CSR2 point as well as volumes of sales and the number of acres sold.  Use this market price research tool right here at DreamDirt.  Click the Iowa map to get started.
Request a Free Valuation for Your Farm or Land Property
Whether you're ready to start the selling process, or even remotely curious, we will gladly provide you with a FREE Market Analysis! If you are in a position to sell land in the Midwest, we want to help you achieve the top of the market on your sale.
Farmland For Sale in Page County, Iowa Sellers: Dan Cates  Auctioneer: Tom Bradley | (515) 202-7687   Location: Amity Township, Iowa Farmland Auction Details in Page County, IowaThis farm is located on the outskirts of College Springs in Page County, IA. If you have...
read more