Eight Things Real Estate Agents Can Do To Help You Buy Your Dream Land
Why You Should Have An Agent Represent You As A Farmland Buyer
Whether you have been saving up to invest in farmland, looking to complete a 1031 exchange, or just want to buy your dream land, real estate agents are available to help you accomplish your goals of purchasing farmland safe and effectively!
#1 We Make Your Goals, Our Goals
Our job is to help you, the buyer, establish your goals, and be a guide through the process. It is our obligation to represent you and ensure you get the best deal possible while protecting you from the unseen hazards and potential financial pitfalls. Our combination of knowledge and experience will help us find your dream farm within your budget and requirements. Now, we understand that the buying process can be emotional and stressful for some of our clients. Our goal is to help you by weighing out the pros and cons, and ultimately easing the burden of buying the farm property.
#2 We Protect You
There are certain issues that may potentially arise when it comes to purchasing farmland that you may not be aware of. Our job is to research the farm properly and identify potential problems. Issues such as zoning, limited access, and surveying are relatively easily for an agent to spot and we can aid in resolving them.
As a buyer's agent, it is our job to represent you and ensure you get the best deal possible. At DreamDirt, our agents work to protect each of our client's best interests, provide them with competent professional guidance, and deliver an exceptional buying experience. In our experience, we find that it is in your best interest to first contact and obtain representation from an agent prior to calling the listing agent.
#3 We Have The Data
Whether you're a first-time buyer or well seasoned, there is a good chance you aren't constantly evaluating real estate. Another excellent reason to hire a buyer's agent when buying real estate is because of the access we have to next-level resources for evaluating properties!
DreamDirt agents utilize a wide array of data systems to ensure we have as much information available to help us, and you, evaluate potential purchases. Not only do we have access to Surety Mapping, which gives us up-to-date soil maps, parcel data maps and more, but also Farmland Finder, MapRight, FarmMarket ID, etc. When it comes to purchasing land, we understand this is a big investment and want you to have the most useful, accurate information possible!
#4 We Understand Your Investment
At DreamDirt, we understand that electing to invest in land is a huge opportunity. From the simplicity to the stability that comes with owning the right piece of land at the right price, the advantages far outweigh investing in any other type of real estate. As an owner of land, there are numerous financial benefits! Annual income, tax benefits and price appreciation are just a few!
Not only do we have a key understanding of how investing and 1031 exchanges work, but we also have industry connections that can answer your crucial questions. We want to help you make a profit and reach your margin on your investment!
#5 We Can Coordinate Showings
One of the most overlooked tasks that a buyer's agent performs on a daily basis is the coordination of showings for their clients. Lining up showings of farmland can be tricky especially when weather and schedules are thrown into the mix. A great reason to hire an agent when buying land is they'll be responsible for coordinating viewings of potential properties.
If you're buying real estate and have interest in a few properties, a buyer's agent is responsible for making sure that you have the opportunity to view potential properties if they're available. This may mean making a dozen phone calls, figuring out the best route for the showings, and making sure the sellers provide you all of the pertinent information about the properties.
Our agents at DreamDirt are happy to schedule tours and showings of a potential property! Are you not able to travel to the property? Let us capture drone footage and create a video of the farm you are interested in! We can provide buyers with mapping products, drone videos and photography so they spend less time traveling to farms. You can rest assured that when you do decide to look at a farm, it's one that closely matches your goals!
#6 We Do The Negotiating For You
A huge advantage to having a buyer's agent is our ability to negotiate on your behalf. We can offer you advice about things you do not encounter often and can lend our knowledge and experience to your buying journey. Seeing that we deal with farmland sales on a daily basis, this makes your journey easier and ensures you don't become victim to misinformation. Sometimes this may include constructing a detailed Market Analysis to illustrate how the farm compares to recent farmland sales and other listings in the area. DreamDirt agents are licensed and equipped with the proper forms and technology to write farm real estate offers. More importantly, we know how to negotiate price and terms strictly on your behalf resulting in a signed real estate contract!
#7 We Know Who To Recommend And We Have Connections With Banks To Consult About Financing Options
The thought of handling real estate financing on your own can be very confusing and complex. One thing to expect when you consult an agent when buying real estate is help with evaluating and securing the best financing for your circumstances. An agent can assist in navigating through the various financial options and help you narrow down to the best option for your scenario. In addition to helping you understand your options, an agent will be able to help secure your chosen method of financing.
#8 We Have Access To The Experienced Professionals Needed During The Process
During the course of a real estate transaction there are several professionals that are needed.
When you consult a real estate agent for purchasing land, you can expect they'll have a pocketbook full of recommended professionals. An experienced agent will have several banks, law firms, and other services that they can recommend to you. It's likely that the professionals a buyer's agent recommends provide quality service and would also be looking out for your best interest during the purchase of a house or property. At DreamDirt, we also have a closing specialist who is prepared to ensure all necessary paperwork is complete and you are covered.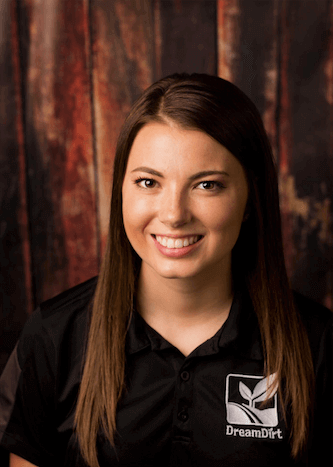 Rachel Tiffany
Farmland Auctioneer | Land Broker
Rachel is a licensed real estate salesperson specializing in the sale of farm, land, and rural residential real estate. She is a graduate of Iowa State University with a major in Animal Science and a minor in Agricultural Business. Rachel has a strong interest in valuations and appraisal of rural properties and studied Rural Property Appraisal at Iowa State. She also works for DreamDirt as the Online Auction Coordinator building and facilitating their online land and equipment auctions.
Email: rachel@dreamdirt.com | Phone: (515) 954-8063
Let One Of Our Agents Help You Today!
Most of the time, all of our services as a buyer's agent are completely free to you as a buyer! The seller pays the commission which helps pay both the buyer and the listing agent. We want to help you legally and professionally buy land. Connect with one of us and get started today!
Iowa Farmland Prices September 9th-15th, 2023 Report A total of 3,805 acres were sold in Iowa this week. The average price per acre for the 32 tracts of land auctions is $11,155/acre and $170.08/CSR2 point. Learn more about CSR2. How much is farmland in Iowa worth...
read more