Iowa Auctioneer DreamDirt Is The Best Choice To Sell Your Farmland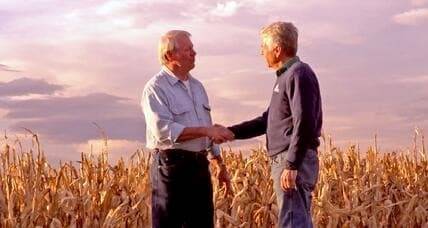 Jason Smith
Auctioneer, Land Broker, Founder
Jason holds Auctioneer or Land Broker licenses in Iowa, Missouri, Minnesota, Nebraska, and South Dakota. His DreamDirt team is composed of auctioneers, land brokers, and realtors. They specialize in farmland sales primarily serving the heirs to family farms all across the Midwest. We offer risk-free selling experiences and work hard to maximize the value of our client's assets using highly effective auction methods, technology, and powerful advertising.
Email: Jason@dreamdirt.com | Phone: (515) 537-6633
Why is DreamDirt the Best Choice to Help You Sell Farmland or Rural Property?
Considering a farmland sale?  At DreamDirt not only do we understand our clients and their needs we are the only company that specializes in being a representative of the seller only.  We do not provide farm management, we do not represent buyers in our auctions or have funds from large investment companies to spend toward farmland purchases.  Maybe that sounds like a bad thing but think about where you want your Auctioneers loyalty to be.  Do you want your auctioneer working to make a recurring buyer happy when you are a one time seller that will come and go but the buyer will still be here tomorrow and into the future?  DreamDirt has been the voice of so many family farms and their heirs over the years and for good reason, we are a true and loyal representative of the seller while being fair and honest with all buyers.
Whether you are nervous about an auction or worried about family dynamics not working with an auction you aren't alone.   54% of farmland sells by farmland auction and only 18% sells by private listing.  Its natural to want to lean toward a private farm listing, you feel like you are more in control when in fact an auction allows the seller to dictate more of the rules to the buyer and commands the best prices in the market.  Remember, records are set and broken at auctions.  You don't hear of that with listings.  A huge benefit of auctions is its time certain.  You will know exactly what day your farm will sell, you will know exactly what day it will close.  From start to finish the process takes 60 days until you have a check in your hand.
DreamDirt's Nationwide Focus Brings The Right Buyers Our nationwide focus isn't just a line to get you to look at us. We have sold farms all across the Midwest and had bidder participation from 38 different states!  If they are out there they will know about your real estate for sale.  DreamDirt's proprietary methods have been developed over the years using the newest and latest methods to reach out to the right people and its something thats only available through our company.
DreamDirt's Technology is Cheap Insurance One of the most notable aspects of our technology program is our online bidding platform.  We can't help but wonder why an auctioneer today would leave out so many potential bidders.  Participation means bids and you want everybody you can get to participate.  Online bidding is just the most notable tool but DreamDirt employs many other tools and methods that revolve around our technology to ensure you do get maximum participation in your auction.
Every Campaign is Tailored to Your Farm Real Estate  Over the years we have built relationships that have lasted and our media savvy staff knows where to go to get the right exposure for you.  Our partnerships and affiliations across all media channels from print to Internet mean the most efficient advertising available because it reaches more of the right people meaning a lower cost per impression and it weeds out the tire kickers.
Digital Advertising  Our competitors will read this looking for clues, the question is often asked "why are so many people using DreamDirt" and a big part of our success in representing sellers is because we adopted digital advertising even through the painful years when it wasn't mature.  We built our data set, we tweaked and improved and tweaked and improved and fine tuned it until we arrived at the powerhouse system we have today.  It very expensive and time consuming to blaze a path where no other auction company had ever gone writing the rules and playbook as we went and it has really paid off for our clients in many ways.  A recent client that sold a farm with DreamDirt told us "From start to finish that was incredible, I had no idea the things you guys did were even possible, I see auctioneering a whole different light now"  High tech, precise and rewarding is our best description of what we offer.
Integrated Marketing DreamDirt.com is our central portal for advertising farms, land and real estate for sale.  Everything we do connects consumers to DreamDirt.com where your auction or listing can be found.  From TV and Radio, Print, Internet and Social Media or Consumer shows and wearables we are always working to drive traffic to our website where people can discover the assets we offer for sale.  You get 3 times the change of selling at DreamDirt.  Your auction or listing can benefit from our general brand advertising, our auction specific advertising or our item level advertising.  We don't know anybody else that uses a similar push-pull strategy in our industry.
Expertise You Want NEED!  Selling high-value farmland in the Midwest requires expert skills, capabilities and resources.  You need the horsepower behind your farm real estate assets to ensure auction day is a breeze and DreamDirt offers you the most complete set of tools, capabilities and resources to get you over the finish line smoothly.  We want to work for you and show you how to maximize the price of our farm real estate at auction.  Start by filling out our Request For Free Farm Real Estate Market Analysis
Jason Smith is a top producing licensed real estate broker and auctioneer specializing in the sale of farmland for family farms and their heirs.  Jason has worked with hundreds of families all across the Midwest to help them plan and sell family farms.  Farmland sales, farmland auctions, farm estates and farm retirements are the bulk of Jason's business.  If you are considering a farmland sale contact Jason at 712-592-8965
Request a Free Valuation for Your Farm or Land Property
Whether you're ready to start the selling process, or even remotely curious, we will gladly provide you with a FREE Market Analysis! If you are in a position to sell land in the Midwest, we want to help you achieve the top of the market on your sale.
Land For Sale in Page County, Iowa Sellers: Howrey Farms LLC   Auctioneer: Jason Smith | (515) 537-6633   Location: Morton & Washington Township, Iowa Land Auction Details in Page County, IowaTract 1: Take a look at this farm in Page County, IA boosting a CSR2 of...
read more