Iowa Farmland Price Report April 22nd-28th, 2023
Iowa Farmland Prices April 22nd-28th, 2023
A total of 240.36 acres were sold in Iowa this past week. The average price per acre for the three land auctions was $7,253.33/acre and $126.31/CSR2 point. Learn more about CSR2.
Top Selling Farms in Iowa
This week's top-selling farm was 31.36 acres in Henry County, IA which sold on April 27th. The farm is located South of Mt. Pleasant, Iowa, and sold for $9,760/acre. This farm had a 52.6 CSR2 resulting in a $185.55/CSR2 point and included a cabin, ponds, and few sheds.
The next highest-selling farm went to 160 acres in Guthrie County, Iowa which sold on April 26th by auction. This farm sold for $8,000/acre and is located Northwest of Stuart. CSR2 rating of this tract of land is 67.6 which totals to be $118.34/csr2.
The third high-selling farm goes to Wayne County, Iowa located Northeast of Humeston. This farm of 49 acres sold for $4,000/acre. This farm has a 53.3 CSR2 rating resulting in a $75.05/CSR2 point and is 67% tillable.
Check out the table below to see results from all farmland auctions in Iowa this week.
Farmland Appraisal for Iowa Land
Curious about what your land is worth and could potentially bring by selling by auction? Contact us today for a free market analysis! 
Farmland For Sale in Iowa
We have farmland auctions coming up in Iowa! Check them out at bid.dreamdirt.com 
Should I take the High Bid during my auction?
Saying no to the highest bid during an auction should be considered carefully and with caution. As a seller, when you say no to the high bid during an auction, auction law dictates that all bids become void and bidding moves back to $0. Some believe this 'buys time' and they are allowed to go back and accept the bid. This is untrue. If a farm auction was properly marketed and conducted, then the highest market value was likely already achieved by the highest bid. We offer four hours after the end of the auction for sellers to decide if they accept the high bid or not. This is one way to ensure our sellers have a stress-free auction experience and majority of our sellers confirm the sale of their farmland before bidding even ends!
Jason Smith
Auctioneer, Land Broker, Founder
Jason holds Auctioneer or Land Broker licenses in Iowa, Missouri, Minnesota, Nebraska, and South Dakota. His DreamDirt team is composed of auctioneers, land brokers, and realtors. They specialize in farmland sales primarily serving the heirs to family farms all across Iowa and surrounding states. We offer risk-free selling experiences and work hard to maximize the value of our client's assets using highly effective auction methods, technology, and powerful advertising.
Email: Jason@dreamdirt.com | Phone: (515) 537-6633
Iowa Current Farmland Prices Per Acre
| Date | County | Zip | Total Acres | Tillable Acres | Price Per Tillable Acre | CSR2 | $ per Tillable CSR2 | Price | % Tillable |
| --- | --- | --- | --- | --- | --- | --- | --- | --- | --- |
| 4/26/23 | Wayne | 51244 | 49 | 33 | $4,000.00 | 53.3 | $75.05 | $132,000.00 | 67.35 |
| 4/26/23 | Guthrie | 51244 | 160 | 108 | $8,000.00 | 67.6 | $118.34 | $864,000.00 | 67.50 |
| 4/27/23 | Henry | 50064 | 31.36 | 8.64 | $9,760.00 | 52.6 | $185.55 | $84,326.40 | 27.55 |
| | TOTALS | | 240.36 | 149.64 | $7,253.33 | 57.83 | $126.31 | $1,080,326.40 | 62.26 |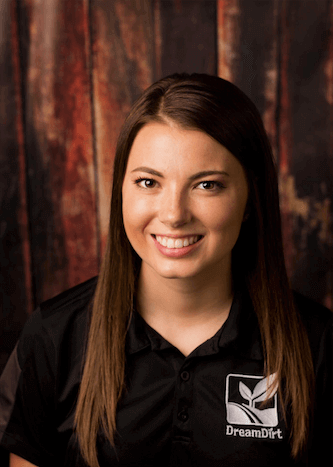 Rachel Tiffany
Farmland Auctioneer | Land Broker
Rachel is a licensed real estate salesperson specializing in the sale of farm, land, and rural residential real estate. She is a graduate of Iowa State University with a major in Animal Science and a minor in Agricultural Business. Rachel has a strong interest in valuations and appraisal of rural properties and studied Rural Property Appraisal at Iowa State. She also works for DreamDirt as the Online Auction Coordinator building and facilitating their online land and equipment auctions.
Email: rachel@dreamdirt.com | Phone: (515) 954-8063
Iowa Land Prices at A Glance For people who wish to visualize and research
Iowa farmland prices
, our heat maps have been a huge help. Here you can research your farm's proximity or the statewide market and see individual sale results. This includes average prices per acre, the average price per CSR2 point, as well as volumes of sales, and the number of acres sold. Use this market price research tool right here at DreamDirt. Click the Iowa map to get started.
Request a Free Valuation for Your Farm or Land Property. You can request a FREE Market Analysis whether you're ready to sell or just curious! Our goal is to help you reach the top of the market when selling land in the Midwest.
Iowa Farmland Prices September 9th-15th, 2023 Report A total of 3,805 acres were sold in Iowa this week. The average price per acre for the 32 tracts of land auctions is $11,155/acre and $170.08/CSR2 point. Learn more about CSR2. How much is farmland in Iowa worth...
read more