Iowa Farmland Prices April 16th-22nd
Welcome back to the Iowa Farmland Prices Report! Our cover photo this week is what farmers are hoping to see and do – planting! According to Successful Farming, the U.S. is currently at 7% corn planted this year compared with 15% for the previous five-year average. Soybeans are currently planted at 3%, compared with 5% for the previous five-year average. The end of this week doesn't look promising for farmers to be out in the field in Iowa due to rain in the forecast. A few of our auctioneers in Western, IA saw planters out rolling this weekend.
Jason Smith
Auctioneer, Land Broker, Founder
Jason holds Auctioneer or Land Broker licenses in Iowa, Missouri, Minnesota, Nebraska, and South Dakota. His DreamDirt team is composed of auctioneers, land brokers, and realtors. They specialize in farmland sales primarily serving the heirs to family farms all across the Midwest. We offer risk-free selling experiences and work hard to maximize the value of our client's assets using highly effective auction methods, technology, and powerful advertising.
Email: Jason@dreamdirt.com | Phone: (515) 537-6633
Iowa Farmland Sales News This Week
There were only 6 farmland sales during the week of April 16th – 22nd which is considerably lower than the 26 farmland auction results we saw on
April 9-15th
. 154.16 acres in Story County, IA sold for $14,700/acre which was the highest for last week. There were a few farms that sold with some CRP acres and the 160 acres in Harrison County, IA was pasture that sold for $9,950/acre! When pasture sells that high, it most likely will be converted into tillable acres.
The average of all farmland sales this week was $128.85 per CSR2 point which is considerably lower than the week before. The average price per acre was $8,593.67/acre and also lower than the week before. This is most likely due to the quality of the farms sold this week and fewer auctions.
We are continuing to add farmland auctions here at DreamDirt and today we sold a farm in Greene County, IA for $2,663,433! Two tracts are located East of Carroll, IA, or West of Scranton, IA, and South of HWY 30. Tract 1 – 117.37 acres sold for $16,200/acre or $189.47/CSR2 and Tract 2 – 44.76 acres sold for $17,025/acre or $194.35/CSR2.
Curious what your farmland is worth? Start today by requesting our free market analysis consultation that is 100% confidential!
| County | Date | Total Acres | Tillable Acres | Price Per Tillable Acre | CSR2 | $ per Tillable CSR2 | Price | % Tillable |
| --- | --- | --- | --- | --- | --- | --- | --- | --- |
| Harrison | 4/18/22 | 160 | 130.69 | $9,950.00 | 52.7 | $188.80 | $1,300,365.50 | 81.68 |
| Story | 4/19/22 | 154.16 | 140 | $14,700.00 | 79.4 | $185.14 | $2,058,000.00 | 90.81 |
| Worth | 4/20/22 | 100 | 81.81 | $5,010.00 | 59 | $84.92 | $409,868.10 | 81.81 |
| Worth | 4/20/22 | 118.02 | 113.19 | $8,083.00 | 68.8 | $117.49 | $914,914.77 | 95.91 |
| Worth | 4/20/22 | 140 | 124.56 | $5,032.00 | 73.1 | $68.84 | $626,785.92 | 88.97 |
| Howard | 4/21/22 | 130 | 125.1 | $8,787.00 | 68.7 | $127.90 | $1,099,253.70 | 96.23 |
| TOTALS | | 802.18 | 715.35 | $8,593.67 | 66.95 | $128.85 | $6,409,187.99 | 89.18 |
Iowa Land Prices at A Glance
Our Iowa Farmland Price Heat Maps have been a huge help for people that want to visualize and research farmland prices in Iowa. Here you can research your farm's proximity or the statewide market and see individual sale results, average prices per acre, the average price per CSR2 point as well as volumes of sales, and the number of acres sold. Use this market price research tool right here at DreamDirt. Click the Iowa map to get started.
Rachel Tiffany is a licensed real estate agent and auctioneer at DreamDirt.  You can reach her at 515-954-8063 or email Rachel@dreamdirt.com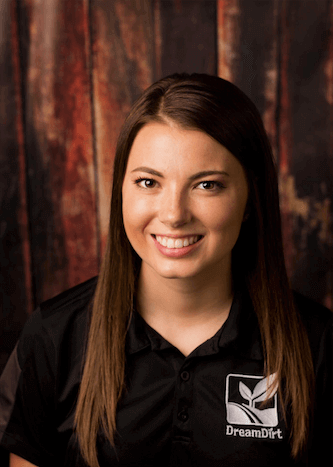 Rachel Tiffany
Farmland Auctioneer | Land Broker
Rachel is a licensed real estate salesperson specializing in the sale of farm, land, and rural residential real estate. She is a graduate of Iowa State University with a major in Animal Science and a minor in Agricultural Business. Rachel has a strong interest in valuations and appraisal of rural properties and studied Rural Property Appraisal at Iowa State. She also works for DreamDirt as the Online Auction Coordinator building and facilitating their online land and equipment auctions.
Email: rachel@dreamdirt.com | Phone: (515) 954-8063
Wild Fires Burning more than 41K acres in Nebraska and Kansas
Our prayers go out to everyone affected by the wildfires spreading across Nebraska and Kansas. According to Colorado's Multi-Mission Aircraft, the Road 702 fire has burned nearly 41,155 acres. The grass is just turning from brown to green and dry conditions are a major hazard still. Read more about the fire
here.
More Blizzard Weather in North Dakota
Our team of auctioneers and farmland agents noticed many ranchers sharing videos on social media this past week of taking care of newborn calves during the blizzard storms in western North Dakota and Montana since Easter weekend. As cattlemen ourselves, we understand the hardships of calving during winter storms with blowing snow and drifts. Our hearts go out to all the tired and hardworking cattlemen trying to keep their livestock alive during these abnormal blizzards.
The crazy thing is that much of North Dakota is still in a drought even with three back-to-back blizzards! Some areas are improving but the majority of the state is still suffering from dry areas.
Request a Free Valuation for Your Farm or Land Property
Whether you're ready to start the selling process, or even remotely curious, we will gladly provide you with a FREE Market Analysis! If you are in a position to sell land in the Midwest, we want to help you achieve the top of the market on your sale.
Farmland For Sale in Page County, Iowa Sellers: Dan Cates  Auctioneer: Tom Bradley | (515) 202-7687   Location: Amity Township, Iowa Farmland Auction Details in Page County, IowaThis farm is located on the outskirts of College Springs in Page County, IA. If you have...
read more