Price Per Acre of Farmland In Iowa – May 2022 Averages
Iowa Farmland Auctions – Average Price Per Acre May 2022
The average price per acre for farmland in Iowa is currently $13,859.79/acre. It doesn't appear that farmland prices are slowing down anytime soon either with the steady increase in prices as seen in the graph above. In fact, there was a farm in Dubuque County that sold on June 1st for $30,600/acre! Sioux County farmland prices are also still pushing past the $20,000/acre price with 54 and 95 acres selling for $22,200/acre and $22,400 last week as well on June 2nd. More recently sold farmland results can be found in the table below. 
Jason Smith
Auctioneer, Land Broker, Founder
Jason holds Auctioneer or Land Broker licenses in Iowa, Missouri, Minnesota, Nebraska, and South Dakota. His DreamDirt team is composed of auctioneers, land brokers, and realtors. They specialize in farmland sales primarily serving the heirs to family farms all across Iowa and surrounding states. We offer risk-free selling experiences and work hard to maximize the value of our client's assets using highly effective auction methods, technology, and powerful advertising.
Email: Jason@dreamdirt.com | Phone: (515) 537-6633
June Farmland Sales in Iowa
by Jason Smith, Auctioneer | Land Broker
Russian Ukrainian Conflict and Its Effects on Agriculture
As we breeze past the first full month of the crop production in Iowa, I think we all agree we are in an interesting time. The demand for farmland is like nothing I've ever seen. It seems like the world has been in chaos since the state of Covid and whether it is fall out or new issues we keep hearing about shortages, supply chain disruptions, inflation, Russia-Ukraine.  Does anybody know what the future looks like?  My Associate Broker, Rachel Tiffany, and I attended a webinar last week that very specifically addressed the Russia Ukrainian conflict and its effects on agriculture.  The panel Chip Flory of Farm Journal chose to deliver this webinar with a panel of Joe Glauber from the Internation Food Policy Research Institute, Yevhenii Tkachenko of Arable in Ukraine and Jim Wiesemeyer from Pro Farmer.  Many of the issues noted above were discussed during the webinar and it was the consensus that nobody knows what is going to happen.  It was interesting to get an in-depth look at the global agricultural delivery system and put together some of the pieces of to this puzzle.  
How is the Ukraine War Affecting U.S. Crop Prices and Land Prices?
The overarching theme of the panel was that currently Ukrainian farmers are dealing with 2 major issues.  The first is their ability to export crops and the 2nd is the cost of diesel fuel.  All of the panel felt that most Ukrainian farmers would not plant a crop in 2023 more because of the diesel issues and less the export issues.  Most felt at some point there will be an answer to the export issues but not the fuel cost issues.  They believed it was a tool of the war to pressure Ukrainians further.  What does it all mean here in the USA?  Well the most significant is that there are fewer world players in the production of wheat, corn and soybeans.  Less supply, more demand, or at least more concentrated demand.  I think this is a pretty easy point to understand and likely is playing into our land market in the Midwest currently.  Everybody realizes if they are unable to produce and deliver a crop to the world market, ours is more valuable and it is an opportunity for Midwestern Farmers to grow.
I never tire of the beauty of Iowa farmland.  I snapped a few photos yesterday of the farm while I visited.  The sky was perfect for a few photos and made the perfect Iowa landscape.  Most of my clients have fond memories of the farm they are selling and often share with me the beauty and magic of spending time on the farm they either grew up on or visited in their youth.  I always have a deep appreciation for those memories myself.
For those that grew up on the farm I had to share this image.  These are Nicole and I's 4 children.  They have grown up in the rural enviroment enjoying on a small scale at least the production of different livestock, produce, hay and grains. We try hard to pass down the skills our own grandparents gave us.  I happened to catch them playing in our orchard today chasing each other around an apple tree!
| County | Total Acres | Price Per Acre | CSR2 | $ per CSR2 | % Tillable |
| --- | --- | --- | --- | --- | --- |
| Hamilton | 75.09 | $15,600 | 86.6 | $180.14 | 100 |
| Dubuque | 59.32 | $30,600 | 50.4 | $607.14 | 91.13 |
| Dubuque | 48.32 | $21,420 | 57.1 | $375.13 | 96.77 |
| Sioux | 54 | $22,200 | 92.4 | $240.26 | 99.19 |
| Sioux | 95 | $22,400 | 93.3 | $240.09 | 96.88 |
| Shelby | 101.81 | $15,700 | 81.7 | $192.17 | 97.54 |
| Pottawattamie | 220.79 | $12,100 | 68.7 | $176.13 | 98.78 |
| Franklin | 74 | $17,300 | 92.9 | $186.22 | 98.88 |
| State | 728.33 | $19,665 | | $274.66 | |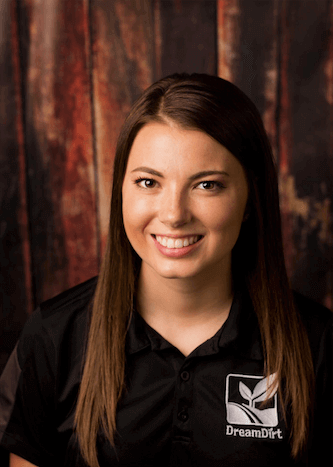 Rachel Tiffany
Farmland Auctioneer | Land Broker
Rachel is a licensed real estate salesperson specializing in the sale of farm, land, and rural residential real estate. She is a graduate of Iowa State University with a major in Animal Science and a minor in Agricultural Business. Rachel has a strong interest in valuations and appraisal of rural properties and studied Rural Property Appraisal at Iowa State. She also works for DreamDirt as the Online Auction Coordinator building and facilitating their online land and equipment auctions.
Email: rachel@dreamdirt.com | Phone: (515) 954-8063
Request a Free Valuation for Your Farm or Land Property
Whether you're ready to start the selling process, or even remotely curious, we will gladly provide you with a FREE Market Analysis! If you are in a position to sell land in the Midwest, we want to help you achieve the top of the market on your sale.
Iowa Farmland Average Price per CSR2 Point
When evaluating farmland, appraisers, auctioneers, land brokers, buyers, investors, and sellers often look at the $/CSR2 average farmland in their area or county is selling for. Across Iowa, the average dollars per CSR2 are still increasing since January and are currently at $177.85/CSR2. That is a significant increase from last May of $144.27/CSR2. Not sure what the CSR2 value of your farm is? Contact us today to find out! 
Iowa Farmland Sales Volume By Number of Acres at Auction
Even though the graph shows a downward trend in the number of acres sold at auction since March, this May we saw 1,333.63 more acres sold this year compared to last May. This trend line is expected as fewer acres come to market during the crop season May-August. We've had several clients call us prepping for selling in the fall after harvest and doing their research now. We want you to understand that you can sell farmland during the summer months! We often get asked, "when is the best time to sell farmland?" To answer that question we ask what your goals are and when it's the year-round best fit for you. Farmland will sell year-round and now is a great time to sell! Don't wait till the Fall when the supply of acres on the market increases which could have an impact on prices and less buyer demand. 
Iowa Cash Rental Rate Survey 2022
Iowa State University just released its survey of cash rental rate averages across the state, per district and county level. Click here to read the full survey. The state average cash rental rate is $256/acre which is a $24/acre increase from last year's survey. This is no surprise since farmland prices, commodity prices, and inflation are all increasing as well. 
Iowa Land Prices at A Glance
Our Iowa Farmland Price Heat Maps have been a huge help for people that want to visualize and research farmland prices in Iowa.  Here you can research your farm's proximity or the statewide market and see individual sale results, average prices per acre, the average price per CSR2 point as well as volumes of sales, and the number of acres sold.  Use this market price research tool right here at DreamDirt.  Click the Iowa map to get started.
Iowa Farmland Prices September 9th-15th, 2023 Report A total of 3,805 acres were sold in Iowa this week. The average price per acre for the 32 tracts of land auctions is $11,155/acre and $170.08/CSR2 point. Learn more about CSR2. How much is farmland in Iowa worth...
read more