Record Breaking Price for Nebraska Farmland Sold at Auction!
Record Farmland Price Set in Richardson County Nebraska
Nebraska doesn't see to get much attention for farmland prices.  Iowa is constantly in the news.  Recently a new farmland price record was set in Iowa's Plymouth County at $26,250 per acre.  This week Nebraska took over the top spot!  A new record farmland price was set by DreamDirt Auctioneers in Nebraska selling 116.69 acres for $27,400.  The farm was located just east of Falls City in far southeastern Nebraska. Two tracts of high quality farmland were offered and sold by online land auction conducted by DreamDirt on October 27th for the Pupkes Estate.  Auctioneer Jason Smith represented the sellers and said "When I visited the farms initially I was confident the soil quality and proximity would play a factor in pricing for these farms.  They both had impressive crops on them that caught my attention but getting 4 phone calls on the way home from putting signs up was the best indication there was likely to be signifcant local competition"
According to University of Nebraska 2022 Farm Real Estate Report, land in Richardson County Southeast Region of Nebraska dollars per acre average for high quality cropland is $9,985/acre. This auction in Richardson County surpassed this average price a week before bidding was scheduled to end.
From our research of Nebraska farmland sales transactions, a majority of good tillable farmland in Nebraska has been selling between $12,000 – $13,500/acre. It appeard by records we were able to obtain the highest sale of farmland in Nebraska stood at $17,800 per acre.  Smith's Associated Broker Rachel Tiffany said "We were confident this farm was special and when bidding was already at $10,000/acre one week before the auction closed, we knew it would likely bring a record breaking price but we were pleasantly surprised for our client at just how far it went"
At DreamDirt we have 2 measures of bidding.  All farms are sold on a per acre basis but as a secondary measure we provide a very convenient measure for bidders to see how they are bidding based on soil productivity. This is unique to DreamDirt and a helpful tool for bidders.  In today's auction Tract 1 sold for over $301.10 per soil productivity unit (91 NCCPI) and tract 2 sold for $160.18 per soil productivity unit (89.9).  The $160 measure falls on the high side of current averages for Nebraska while the $301 is what many call "a bell ringer" and lies well out side the average per soil productivity unit.
Richardson County, Nebraska Farmland Auction
Tract 1 is located east of Falls City with hard road access on Hwy 159 close to city limits.  There are multiple older but good quality buildings and a well on the property.
Tract 2 was located farther east off HWY 159 and is a high quality farm with easement access.  The crop on the farm when we filmed it was as impressive as it gets with chest high soybeans. This tract sold for $14,400.
Both farms were in an area that had seen significant competition for farmland in recent months and a good crop in the area likely contributed some to the higher prices. The auction achieved a high price with farmers bidding against farmers and no investor or developer influence in the price.  If you are considering selling farmland in the Midwest call us at DreamDirt.  We offer live in person auctions, online farmland auctions and private sales of land with very competitive commission rates.  Reach us at 855-376-3478 or visit our farmland sellers page.
Jason Smith
Auctioneer, Land Broker, Founder
Jason holds Auctioneer or Land Broker licenses in Iowa, Missouri, Minnesota, Nebraska, and South Dakota. His DreamDirt team is composed of auctioneers, land brokers, and realtors. They specialize in farmland sales primarily serving the heirs to family farms all across Iowa and surrounding states. We offer risk-free selling experiences and work hard to maximize the value of our client's assets using highly effective auction methods, technology, and powerful advertising.
Email: Jason@dreamdirt.com | Phone: (515) 537-6633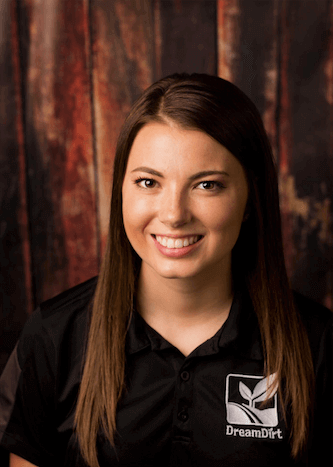 Rachel Tiffany
Farmland Auctioneer | Land Broker
Rachel is a licensed real estate salesperson specializing in the sale of farm, land, and rural residential real estate. She is a graduate of Iowa State University with a major in Animal Science and a minor in Agricultural Business. Rachel has a strong interest in valuations and appraisal of rural properties and studied Rural Property Appraisal at Iowa State. She also works for DreamDirt as the Online Auction Coordinator building and facilitating their online land and equipment auctions.
Email: rachel@dreamdirt.com | Phone: (515) 954-8063
Request a Free Valuation for Your Farm or Land Property
Whether you're ready to start the selling process, or even remotely curious, we will gladly provide you with a FREE Market Analysis! If you are in a position to sell land in the Midwest, we want to help you achieve the top of the market on your sale.
Iowa Farmland Prices September 9th-15th, 2023 Report A total of 3,805 acres were sold in Iowa this week. The average price per acre for the 32 tracts of land auctions is $11,155/acre and $170.08/CSR2 point. Learn more about CSR2. How much is farmland in Iowa worth...
read more