The Perfect Farmland Auction In 5 Steps
Everything A Seller Wants – An Easy, Safe, And Effective Land Auction!
Picture this: You send me a message about selling your farm and want to get it sold as soon as possible. We agree to an online land auction with bidding open for 30 days. The morning of the auction you agree to sell the farm and have it trade hands to the highest bidder at 2pm when the auction was set to end. When the auction is over, both you and the high bidder are extremely happy and pleased of how the auction ended. Closing takes another 30 days and the perfect auction is complete without any stress to you as the seller.
The perfect land auction does exist – and I just experienced it with 75 acres of farmland in Dallas County! Want more details? Here's how it went:
1. Determine The Land Sell Method
I was more than excited when I received a message from a daughter of a seller needing my help to sell a tillable farm just 15 minutes from where I grew up. Dallas County is one of the fastest growing counties in Iowa and high-quality tillable farmland is seeing premium results and still in high demand for farmers and investors. This was the perfect farm to sell on an online auction since it was flat, black, and a high-quality piece of land. The seller was ready to get a deal done and wanted to have bidding open for just 30 days and sell it in time for the new buyer to farm it for the upcoming crop season. What made this auction go so smoothly was that the seller trusted me and took my advice to achieve the maximum price for her farm.
2. Land To Sell By Auction
Once we agreed on an auction date, the information went up on our online bidding website and advertising begun! All of our advertising was done in-house by our Communications Manager and I offered a free marketing package to the seller. This included a free drone video, signs on the property, auction flyers that I hung up around the county, email blast, social media posts, newspaper ads, and more! We barely got advertising out the door and bidders were already placing bids on the farm!
3. Working With Online Auction Bidders
One of my favorite parts about working as a land real estate agent is talking with sellers and bidders. My phone continued to ring throughout the 30 days as bidders asked questions about the farm and how to register online. Since I'm also an online auction coordinator for DreamDirt, I know all the ins-and-outs of how our online auctions work and can get bidders registered right away if they have any troubles. I work closely with every auction and have plenty of experience conducting auctions. Before this Dallas County auction, I had never seen so much bidding happen prior to the auction end date! Typically, bidders wait till the day the auction ends to place bids, but with this Dallas County auction, the seller went to bed comfortably and stress free the night before the auction ended since it was already at a high price. The next morning (day of auction) the seller confirmed the sale of the auction and we announced that the farm would trade hands!
4. Sold! A Great Online Land Auction
The seller's auction confirmation spurred even more bidding throughout the day! I continued to follow-up with bidders and encourage them to keep bidding. The auction was set to close at 2pm, however it went into extended bidding since bidders were going back and forth the last couple minutes of the auction and our soft close gives a chance for everyone to bid. In the end, the high bidder told me that the farm once belonged to her relatives, and that she was excited to have her brother farm it!
5. Trust Your Land Auction Agent
Just like our advertising, we have an in-house Closing Specialist that worked closely with my seller and buyer for this auction to make sure the closing process went smoothly and in a timely manner. Undoubtably, I believe this was the most perfect sale. Both the seller and buyer were extremely pleased. I truly think it went so well because the seller not only trusted me, but also took my professional advice on how to have a perfect successful auction.
I couldn't be more thankful to have the chance to help sell this piece of Dallas County farmland. Check out the results and the testimonial the seller's daughter sent me! If you have any questions about how to sell your farmland or how an online auction would work for your piece of land, give me a call at 515-954-8063.
"Thank you, Rachel Hoy! We have been friends with Rachel for several years and don't let her age fool you, she knows her stuff and is a true professional. We appreciate all her help from start to finish." -Mandi Orman | Dallas County, Iowa
Check out my Facebook page for more auction information and resources!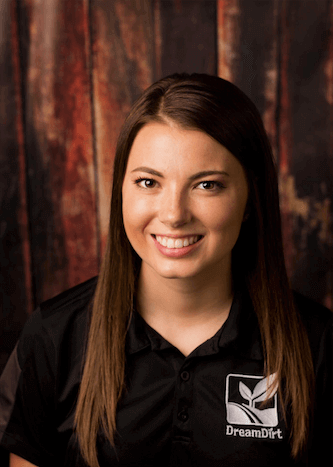 Rachel Tiffany
Farmland Auctioneer | Land Broker
Rachel is a licensed real estate salesperson specializing in the sale of farm, land, and rural residential real estate. She is a graduate of Iowa State University with a major in Animal Science and a minor in Agricultural Business. Rachel has a strong interest in valuations and appraisal of rural properties and studied Rural Property Appraisal at Iowa State. She also works for DreamDirt as the Online Auction Coordinator building and facilitating their online land and equipment auctions.
Email: rachel@dreamdirt.com | Phone: (515) 954-8063
Request a Free Valuation for Your Farm or Land Property
Whether you're ready to start the selling process, or even remotely curious, we will gladly provide you with a FREE Market Analysis! If you are in a position to sell land in the Midwest, we want to help you achieve the top of the market on your sale.
Farmland For Sale in Page County, Iowa Sellers: Dan Cates  Auctioneer: Tom Bradley | (515) 202-7687   Location: Amity Township, Iowa Farmland Auction Details in Page County, IowaThis farm is located on the outskirts of College Springs in Page County, IA. If you have...
read more