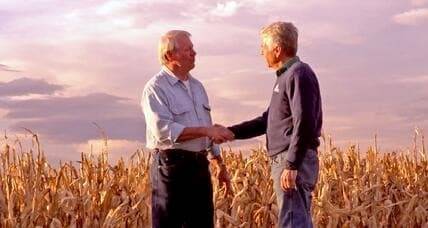 Jason Smith
Auctioneer, Land Broker, Founder
Jason holds Auctioneer or Land Broker licenses in Iowa, Missouri, Minnesota, Nebraska, and South Dakota. His DreamDirt team is composed of auctioneers, land brokers, and realtors. They specialize in farmland sales primarily serving the heirs to family farms all across the Midwest. We offer risk-free selling experiences and work hard to maximize the value of our client's assets using highly effective auction methods, technology, and powerful advertising.
Email: Jason@dreamdirt.com | Phone: (515) 537-6633
Sometimes its hard to sum up in a clear and concise sentence exactly what DreamDirt does.  We always struggle a little when making advertising because we want to make sure the viewers understand exactly what we do and the services we offer.  You really can divide our services into 2 categories which include Auctioneering and Real Estate Brokerage.  If it has anything to do with agriculture or the country you can be we do that!  From there our services break down into different services.
Auctioneering
Live Onsite Auctions
Online Only Auctions
Combination Live/Online (simultaneous auctions)
Live Consignment or multi seller auctions
Online Consignment or multi seller auctions
Sealed Bid auctions
Appraisals
What do we sell at auction?
Farmland/Land Auctions
Hunting land/combination farms
Farm machinery and other heavy equipment
Hunting leases, cropland leases or other property rights
Hay and forages
Standing marketable timber
Metal scrap
Real Estate Brokerage 
Real Estate listings, private sales
Land Acquisition
Buyer representation
Land Management
Farmland rental negotiations
Broker price opinions
What do we sell as a real estate brokerage
Farmland
Hunting Land
Acreages
Agri-businesses
Hunting lodges
Executive retreats and homes
What area do we serve?  In Iowa we cover every county.
Adair | Adams | Allamakee | Appanoose | Audubon | Benton | Black Hawk | Boone | Bremer | Buchanan | Buena Vista | Butler | Calhoun | Carroll | Cass | Cedar | Cerro Gordo | Cherokee | Chickasaw | Clarke | Clay | Clayton | Clinton | Crawford | Dallas | Davis | Decatur | Delaware | Des Moines | Dickinson | Dubuque | Emmet | Fayette | Floyd | Franklin | Fremont | Greene | Grundy | Guthrie | Hamilton | Hancock | Hardin | Harrison | Henry | Howard | Humboldt | Ida | Iowa | Jackson | Jasper | Jefferson | Johnson | Jones | Keokuk | Kossuth | Lee | Linn | Louisa | Lucas | Lyon | Madison | Mahaska | Marion | Marshall | Mills | Mitchell | Monona | Monroe | Montgomery | Muscatine | O'Brien | Osceola | Page | Palo Alto | Plymouth | Pocahontas | Polk | Pottawattamie | Poweshiek | Ringgold | Sac | Scott | Shelby | Sioux | Story | Tama | Taylor | Union | Van Buren | Wapello | Warren | Washington | Wayne | Webster | Winnebago | Winneshiek | Woodbury | Worth | Wright
Request a Free Valuation for Your Farm or Land Property
Whether you're ready to start the selling process, or even remotely curious, we will gladly provide you with a FREE Market Analysis! If you are in a position to sell land in the Midwest, we want to help you achieve the top of the market on your sale.
Farmland For Sale in Page County, Iowa Sellers: Dan Cates  Auctioneer: Tom Bradley | (515) 202-7687   Location: Amity Township, Iowa Farmland Auction Details in Page County, IowaThis farm is located on the outskirts of College Springs in Page County, IA. If you have...
read more