Factors Influencing Farmland Prices & Recent Survey Insights
Farmland is a cornerstone of the American agricultural landscape, serving as the bedrock for crop production, livestock operations, and countless rural communities. Its value is not only economic but deeply rooted in the nation's history and future. In 2021 and 2022, the Iowa farmland market  captured attention, with headlines celebrating record-breaking sales and soaring land values. However, currently in 2023, there is a complex interplay of factors influencing the market.
0.6% Increase in Iowa Farmland Values:
The REALTORS® Land Institute – Iowa Chapter's biannual Land Trends and Values Survey provides an insight into the state of Iowa's farmland market. Specialized participants such as farmland appraisers, realtors, auctioneers, farm managers, attorneys, and other professionals are asked to complete the survey with estimating the average value of farmland as of September 1, 2023, specifically for bare, unimproved land with a cash sale price.
The latest survey, conducted in September 2023, showed a minor dip, with a 0.2% decrease in average statewide farmland values since the previous survey in March. However, this follows a contrary trend, as the March survey reported an 0.8% increase in Iowa farmland values between September 2022 and March 2023, resulting in a year-over-year increase of 0.6%.
The results suggest that the market is transitioning from the rapid growth observed in 2021 and 2022 toward a period of steadier prices. The shift is attributed to the tug-of-war between rising interest rates and positive net farm incomes, supporting current values.
Regional variances also emerge, with the northwest district experiencing the largest decrease in farmland values at 2.9%, while the south central district observed a substantial 1.3% increase. Moreover, the survey revealed upticks in timberland and pastureland values, adding a layer of complexity to the overall market.
Variables and Volatility in the Farmland Market:
Despite the overall trend toward steadier prices, several key variables could sway farmland values unpredictably. One such factor is commodity prices, which weigh significant influence over farm revenue and land values. Higher commodity prices translate to increased cash flow for farmers, incentivizing investments in their operations to purchase more farmland. Conversely, lower prices prompt the opposite response. The volatility of commodity prices, marked by fluctuations and supply concerns, continues to be a wildcard in the market.
Inflation, too, remains a point of consideration. Rising inflation typically puts pressure on land values, but the longevity of this high inflation period is still uncertain.
Interest rates loom large for farmers, particularly as cash reserves dwindle. Leveraged purchases may become more common, leading to increased interest expenses and potentially dampening demand. As farmland auctioneers and real estate company, we have seen the buyer pool become smaller due to rising interest rates, but good high-quality farmland is still in high demand and selling well.
Non-farmer investors, while often discussed, tend to contribute a few bids, but it's the farmers, faced with liquidity challenges and evolving financial priorities, who shape the market and are majority of the high bidders on auction day.
Future of Farmland Market:
Amidst these variables and potential fluctuations, farmland remains a solid long-term investment. The consistent track record of agricultural real estate in providing steady returns is undeniable. Farmland is unique, with a typical ownership cycle lasting approximately 60 years. This infrequency of sales means that the right buyer may seize the opportunity to purchase the right land, irrespective of short-term market forces.
As the Iowa farmland market evolves in 2023 and 2024, it stands as a testament to the intricate interplay of factors that shape land values. While the market may be cooling down from the record-breaking trends of the past, its enduring appeal and sound investment potential remain steadfast and now is a good time to sell if you are thinking of doing so.
Contact us today to get started on the selling farmland journey. We offer a free consultation and ready to answer the questions you have. Schedule an appointment here.
Jason Smith
Auctioneer, Land Broker, Founder
Jason holds Auctioneer or Land Broker licenses in Iowa, Missouri, Minnesota, Nebraska, and South Dakota. His DreamDirt team is composed of auctioneers, land brokers, and realtors. They specialize in farmland sales primarily serving the heirs to family farms all across the Midwest. We offer risk-free selling experiences and work hard to maximize the value of our client's assets using highly effective auction methods, technology, and powerful advertising.
Email: Jason@dreamdirt.com | Phone: (515) 537-6633
The Realtors Land Institute categorizes Iowa's farmland prices based on quality. Although there isn't an official distinction for High, Medium, and Low-Quality Cropland, one might logically assume that dividing the CSR (Corn Suitability Rating) system into thirds could define these classes. Low-Quality encompasses CSR ratings from 0 to 33, while Medium-Quality includes farms with CSR2 ratings from 34 to 66. High-Quality comprises all farms with CSR2 ratings of 67 and above. However, the non-tillable pasture and timber designations can be challenging to differentiate, as many pastures have timber, and timber areas often have open pastures. It's rare for a farm to fit exclusively into one category or the other. If you are interested in using these figures as a general measure to understand your farm's value and its area, it can be useful. However, for the most accurate assessment, we recommend requesting a free customized land market analysis from DreamDirt.
Iowa Farmland Values Dollars Per Acre March – Sept 2023
Average Iowa
Farmland Prices
By Region
High Quality
Crop Land
Medium Quality
Crop Land
Low Quality
Crop Land
Non - Tillable
Pasture Per Acre
Timber Per Acre
Percent
Change
6 Months
Sept
March
Sept
March
Sept
March
Sept
March
Sept
March
%
Central Iowa
$16,036

$

15,924

$11,619

$11,629

$7,758

$7,883

$4,380

$4,383

$4,075

$4,005

-0.1%
East Central Iowa

$

16,049

$

15,844

$

12,661

$12,571

$8,781

$8,879

$4,731

$

4,642

$4,221

$4,191

0.5%
North Central Iowa

$

14,995

$

15,092

$11,604

$11,674

$7,602

$7,716

$4,422

$4,367

$3,694

$3,713

-0.8%
Northeast Iowa

$

15,823

$

15,722

$

12,404

$12,419

$

7,956

$7,951

$

4,441

$4,377

$

4,268

$4,232

0.3%
Northwest Iowa

$

17,054

$

17,465

$

13,333

$13,735

$9,128

$9,475

$

4,618

$4,607

$4,085

$4,127

-2.9%
South Central Iowa

$11,180

$11,011

$8,287

$8,198

$6,038

$5,977

$4,294

$4,213

$4,494

$4,438

1.3%
Southeast Iowa

$

15,218

$

15,078

$10,807

$10,812

$7,037

$6,991

$4,355

$4,270

$4,333

$4,183

0.6%
Southwest Iowa

$

12,988

$12,787

$9,953

$9,872

$

6,728

$6,706

$4,894

$4,772

$

3,967

$3,911

1.0%
West Central Iowa

$

15,958

$

16,092

$12,436

$12,596

$9,065

$9,121

$4,707

$4,657

$4,388

$4,300

-0.9%
State of Iowa

$

15,034

$

15,002

$11,456

$11,501

$7,788

$7,855

$4,538

$4,476

$4,169

$4,122

-0.2%
Iowa Chapter of the Realtors Land Institute Value Survey March to September 2023
Biannually, the Iowa Chapter of the Realtors Land Institute conducts a survey among its professional members to assess changes in farmland prices and estimate any changes in land prices from the previous report. These reports are typically released in March and September, measuring Iowa land prices over the period from March to September 2023. It's crucial to note that this "survey" does not provide actual sale results, and each participant responding to the survey may employ different methods and hold varying opinions in their responses. While the land value survey may not offer precise figures, it remains a resourceful tool for gauging the market's dynamics.
Below is the overall farmland values for the 9 crop reporting districts in Iowa with each showing slight decrease in increase in farm real estate values.  This is significant when you consider the substantial gains, we saw in 2021 and 2022.
We predicted last year that the record breaking sales would start to decline and the market would not be able to keep up with the soaring prices. We know where farmland prices are at now currently, don't wait any longer. If you are considering selling a farm it really is time to act.  We offer free customized farmland valuations to help you understand a more precise value of your farm.
Changes in Farmland Values Past 6 Months in Iowa
We agree with the numbers above from the survey. Farmland prices are starting to "level-off" and we don't expect to see a significant rise in values or decrease. Compared to the previous two years where all 9 districts showed increases, 4 crop reporting districts show a slight decrease March – September 2023. South Central shows up in the lead at 1.3% gains. Southwest Iowa and Southeast Iowa follow at 1.0% and 0.6% respectively. East Central and Northeast Iowa nearly tie with 0.5% and 0.3%.  The largest decrease was in Northwest Iowa at -2.9% which actually experienced the highest gains in the previous year and record breaking sales bringing $20,000/acre + and an overall state decrease of -0.2% from March – September 2023.
Crop Reporting District Price Performance for Tillable Farmland
For the period of Sept 2022 to Sept 2023 Farmland Prices in each district in Iowa for High Quality Crop Land have changed:
Northwest Iowa -2.5%
North Central Iowa -0.07%
Northeast Iowa 1.4%
West Central Iowa -1.0%
Central Iowa 4.7%
East Central Iowa 1.1%
Southwest Iowa 6.5%
South Central Iowa 7.2%
Southeast Iowa 6.7%
Statewide 2.2%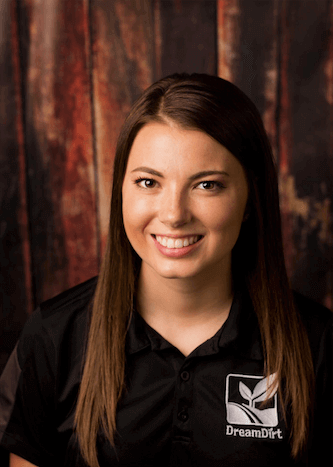 Rachel Tiffany
Farmland Auctioneer | Land Broker
Rachel is a licensed real estate salesperson specializing in the sale of farm, land, and rural residential real estate. She is a graduate of Iowa State University with a major in Animal Science and a minor in Agricultural Business. Rachel has a strong interest in valuations and appraisal of rural properties and studied Rural Property Appraisal at Iowa State. She also works for DreamDirt as the Online Auction Coordinator building and facilitating their online land and equipment auctions.
Email: rachel@dreamdirt.com | Phone: (515) 954-8063
Request a Free Valuation for Your Farm or Land Property
Whether you're ready to start the selling process, or even remotely curious, we will gladly provide you with a FREE Market Analysis! If you are in a position to sell land in the Midwest, we want to help you achieve the top of the market on your sale.
Farmland For Sale in Page County, Iowa Sellers: Dan Cates  Auctioneer: Tom Bradley | (515) 202-7687   Location: Amity Township, Iowa Farmland Auction Details in Page County, IowaThis farm is located on the outskirts of College Springs in Page County, IA. If you have...
read more