Iowa Land Sales May 14th – 20th
Does Drought Affect Farmland Prices?
The planters sure were moving over the last week since we last reported.  This week is starting off with a 2 day rain that slowed things down for all but northeast Iowa.  Not much has been said but Iowa continues to experience drought in areas.  The last 3 months has seen significant drought relief but portions of Northwest Iowa has continued to see up to Severe Drought designation in Monona, Woodbury and Plymouth Counties.  A larger area across Buena Vista, Ida, Sac and Pocahontas Counties are still in Moderate Drought while all of Northwest Iowa is still Abnormally Dry.  A small portion of east central and southeast Iowa is also still in the abnormally dry category.  Does this affect farmland prices?  No, it doesn't.  I have watched with a keen eye since the 2011-12 drought to see if I can final a correlation between drought and land prices and honestly, land prices have always been higher during droughts.  We saw that in 2012 and 2021 both.  Both years were droughts and both of the years were pinnacle years for appreciation of farmland prices!  I doubt they are related but it still remains a fact.
Jason Smith
Auctioneer, Land Broker, Founder
Jason holds Auctioneer or Land Broker licenses in Iowa, Missouri, Minnesota, Nebraska, and South Dakota. His DreamDirt team is composed of auctioneers, land brokers, and realtors. They specialize in farmland sales primarily serving the heirs to family farms all across Iowa and surrounding states. We offer risk-free selling experiences and work hard to maximize the value of our client's assets using highly effective auction methods, technology, and powerful advertising.
Email: Jason@dreamdirt.com | Phone: (515) 537-6633
How Much Is Iowa Farmland Worth?
There were quite a few land auctions that happened during the week of May 14th-20th compared to the previous week. We saw 10 tillable farmland sales happen totaling 881.58 acres sold. The average dollars per acre this week is $12,029. Average dollars per CSR2 is $176.60. This appears to be the trend right now for averages and we will do a monthly report covering May later.
Can You Sell Farmland During the Crop Season?
Farmland auctions in Iowa typically slow down May – July during the crop season, even though you can sell land during the summer months. In fact, we have auctions coming up in June and are booking more throughout the summer!
Jackson County in East Central Iowa took the top at 45.68 acres selling for $17,700/acre or $275.70/CSR2! Check out the results from the rest of the farmland auctions below or watch Rachel's video!
| County | Total Acres | Price/Acre | CSR2 | $/CSR2 | % Tillable |
| --- | --- | --- | --- | --- | --- |
| Crawford | 178.62 | $9,000 | 64 | $140.63 | 93.05 |
| Calhoun | 77 | $12,450 | 83.3 | $149.46 | 99.88 |
| Jackson | 103.33 | $14,600 | 58.7 | $248.72 | 87.86 |
| Jackson | 45.68 | $17,700 | 64.2 | $275.70 | 97.42 |
| Muscatine | 118.16 | $8,050 | 58 | $138.79 | 88.86 |
| Palo Alto | 120 | $11,600 | 78.5 | $147.77 | 100 |
| Palo Alto | 12.5 | $9,800 | 81 | $120.99 | 96 |
| Worth | 80 | $10,500 | 56.9 | $184.53 | 94.38 |
| Worth | 67.79 | $10,290 | 60.1 | $171.21 | 95.15 |
| Pocahontas | 78.5 | $16,300 | 86.6 | $188.22 | 97.19 |
| Total | 881.58 | $12,029 | | $176.60 | |
Growing Sweet Corn
Mid to late May is always garden season here in Iowa. Nicole and I have grown our gardening habit more every year.  Auctioneering has been very busy but we are growing our largest garden yet this year.  This year we also started a new sweet corn patch in a new area of the farm.  Nicole and I both love teaching the children about growing food and our new farm in the Missouri River Bottoms presented a good learning opportunity for all of us.  The area is known for its heavy soils which take some experience and expertise to farm.  Since we had the option of making significant soil amendments on a small sweet corn patch we were able to amend our soils with sand, compost and Peat Moss to help lighten the soil and break the compaction qualities with organic matter.  It's been a fun project and we're looking forward to seeing how we do growing corn on the new patch! It's impossible to beat Midwestern Sweet Corn!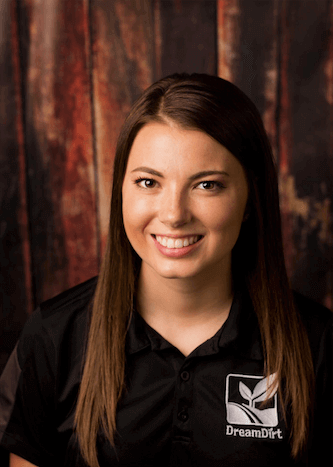 Rachel Tiffany
Farmland Auctioneer | Land Broker
Rachel is a licensed real estate salesperson specializing in the sale of farm, land, and rural residential real estate. She is a graduate of Iowa State University with a major in Animal Science and a minor in Agricultural Business. Rachel has a strong interest in valuations and appraisal of rural properties and studied Rural Property Appraisal at Iowa State. She also works for DreamDirt as the Online Auction Coordinator building and facilitating their online land and equipment auctions.
Email: rachel@dreamdirt.com | Phone: (515) 954-8063
Iowa Land Prices at A Glance
Our Iowa Farmland Price Heat Maps have been a huge help for people that want to visualize and research farmland prices in Iowa.  Here you can research your farm's proximity or the statewide market and see individual sale results, average prices per acre, average price per CSR2 point as well as volumes of sales and the number of acres sold.  Use this market price research tool right here at DreamDirt.  Click the Iowa map to get started.
Request a Free Valuation for Your Farm or Land Property
Whether you're ready to start the selling process, or even remotely curious, we will gladly provide you with a FREE Market Analysis! If you are in a position to sell land in the Midwest, we want to help you achieve the top of the market on your sale.
Iowa Farmland Prices September 9th-15th, 2023 Report A total of 3,805 acres were sold in Iowa this week. The average price per acre for the 32 tracts of land auctions is $11,155/acre and $170.08/CSR2 point. Learn more about CSR2. How much is farmland in Iowa worth...
read more