Iowa Farmland Prices April 23rd – 30th
Recent Farmland Sales in Iowa
There were a total of 10 tillable farmland auctions in Iowa last week April 23rd – 30th. We typically start to see a decline in number of acres sold after March into the summer due to the crop year, but April proved to be different this year. There were 5,364 more acres sold this April than last year April in 2021! If you're thinking of selling farmland in Iowa now is a great time to do so! You don't have to wait till after the crop season to sell. You can still sell farmland with a farm tenant! Read more here to learn how to do so or reach out to us! Last week, Sioux County had the highest selling prices at $23,500/acre which is starting to become typical for that county in Northwest Iowa. View more recent farmland sales data for Sioux County, IA here. On April 26th, we had a very successful land auction in Greene County, IA! Tract 1 sold for $16,200/acre and Tract 2 sold for $17,025. View the auction here. 
The average per acre price this week in Iowa was $15,783.40/acre of $198.33/CSR2 over a total of 807.50 acres from 80% or more tillable farms. This is considerably higher than the previous week due to more acres sold and higher per acre prices. Each auction brought $185/CSR2 or more last week which beats the average of $128/CSR2 during April 16th – 22nd. See the results below from each auction.
Jason Smith
Auctioneer, Land Broker, Founder
Jason holds Auctioneer or Land Broker licenses in Iowa, Missouri, Minnesota, Nebraska, and South Dakota. His DreamDirt team is composed of auctioneers, land brokers, and realtors. They specialize in farmland sales primarily serving the heirs to family farms all across the Midwest. We offer risk-free selling experiences and work hard to maximize the value of our client's assets using highly effective auction methods, technology, and powerful advertising.
Email: Jason@dreamdirt.com | Phone: (515) 537-6633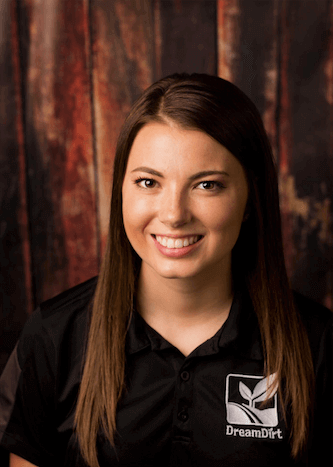 Rachel Tiffany
Farmland Auctioneer | Land Broker
Rachel is a licensed real estate salesperson specializing in the sale of farm, land, and rural residential real estate. She is a graduate of Iowa State University with a major in Animal Science and a minor in Agricultural Business. Rachel has a strong interest in valuations and appraisal of rural properties and studied Rural Property Appraisal at Iowa State. She also works for DreamDirt as the Online Auction Coordinator building and facilitating their online land and equipment auctions.
Email: rachel@dreamdirt.com | Phone: (515) 954-8063
| County | Total Acres | Price Per Acre | CSR2 | $ per CSR2 | % Tillable |
| --- | --- | --- | --- | --- | --- |
| Sioux | 41.43 | $23,500 | 90.4 | $259.96 | 95.12 |
| Sioux | 104.99 | $22,700 | 88.1 | $257.66 | 99.23 |
| Greene | 117.37 | $16,200 | 85.5 | $189.47 | 100 |
| Greene | 44.76 | $17,025 | 87.6 | $194.35 | 100 |
| Dallas | 80 | $17,100 | 87.9 | $194.53 | 93.53 |
| Dallas | 80 | $16,100 | 87.6 | $183.79 | 95.78 |
| Linn | 35.70 | $14,975 | 70.6 | $212.11 | 93.84 |
| Dallas | 74.9 | $7,534 | 59.5 | $126.62 | 86.73 |
| Allamakee | 76.35 | $9,600 | 53.4 | $179.78 | 84.74 |
| Shelby | 152 | $13,100 | 70.8 | $185.03 | 96.13 |
| Total | 807.50 | $15,783.4 | | $198.33 | |
Planting Progress in Iowa
According to Successful Farming website, as of Sunday April 24th, the USDA report pegged corn planted at 7%, compared with 15% for the previous five-year average; 2% has emerged compared to 3% for the previous five-year average
Rain and cold has caused a major delay in planting much across Iowa, but it has relieved us of drought impact headed into summer and warmer weather. Farmers can't seem to win when it comes to needing rain versus needing sunny warm days to get the tractor and planter out in the field. The U.S. drought monitor shows below parts of Iowa that are still severe, moderate and abnormally dry mostly in Northwest and East Central Iowa.
Happy National Auctioneer's Week!
It's the start of National Auctioneer's Week May 1st – 7th and what better way than to meet the auctioneers at DreamDirt! Our team of auctioneers are true professionals when it comes to helping guide clients through the farmland selling journey. Not only are they also licensed real estate agents and brokers, but they also hold many other distinct and prestigious titles. Many of our auctioneers have gone through auction school, taught auctioneer classes, graduates of professional ringmen's institue (PRI) and certified auctioneer institute (CAI) school.
Request a Free Valuation for Your Farm or Land Property
Whether you're ready to start the selling process, or even remotely curious, we will gladly provide you with a FREE Market Analysis! If you are in a position to sell land in the Midwest, we want to help you achieve the top of the market on your sale.
Land For Sale in Page County, Iowa Sellers: Howrey Farms LLC   Auctioneer: Jason Smith | (515) 537-6633   Location: Morton & Washington Township, Iowa Land Auction Details in Page County, IowaTract 1: Take a look at this farm in Page County, IA boosting a CSR2 of...
read more